Rotating-Wheel Based Refreshable Braille Display
.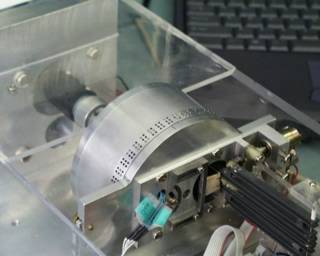 NIST Braille Display
:NIST has developed a unique refreshable Braille technology that can reduce cost by a factor of 10 or more. It will make possible high performance Braille displays for $1000 or less, and enable high speed reading devices about the size of a portable CD player. While existing displays put Braille on a linear array of dots, this design puts the Braille on the rim of a rotating wheel, which moves the text past the user's fingers. Users can adjust wheel speed, or can pause the wheel for stationary reading.